Shtooka Explorer
Shtooka Explorer is a program that enables the browsing of audio collections of words (SWAC). These collections of words can be on your own computer but you can also get sound files directly from the Internet. There are currently more than 75 000 words in our server (fra, eng, dut, deu, chi, swe, rus, bel, ukr).
This program is distributed and licensed under the GNU General Public License (GPL).
The current version of Shtooka Explorer for Windows is 1.2.
Download
Latest MS Windows version (v.1.2)
This package called Kit Shooka also contains Shtooka Repeat and Shtooka Recorder
for GNU/Linux
For GNU/Linux, please, use the new software Swac Tools which replace Shtooka Explorer.
We provide all these programs with source code.
MS Windows Vista users can try the old version (1.0) which is available at this adress.
Screenshots:
Main Page: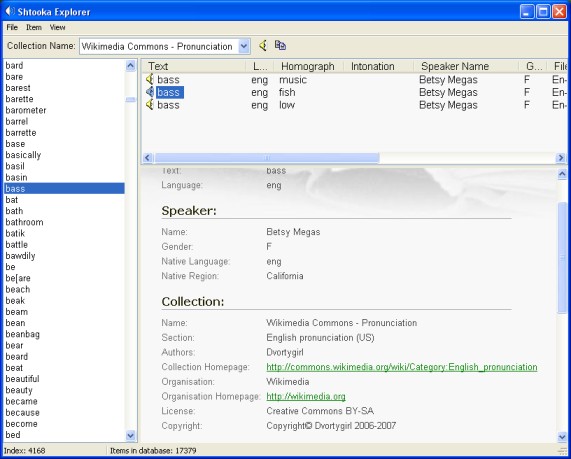 Selection of Packages from internet: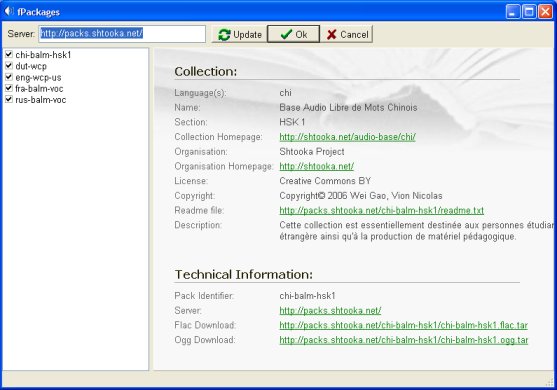 Shtooka Explorer v 1.2 for Windows Changelog
Integration of an OLE server.

Shtooka Explorer v 1.0 for Windows Changelog
Version 1.0.1
- Correct "About" page information
- Http timeout : 5s => 30s

Version 1.0.0
- First Windows testable version 
- Browse local/internet audio collection of words 
- Use shtooka-scan to extract vorbis comment tags of local collections 
- Use flac/oggdec to decompress audio files 
- Compiled by Delphi with TntWare Unicode Controls

SWAC :
Shtooka Explorer uses the SWAC fields naming scheme to store and organize the information. Please consult this document for more information.
Contact :
You can send an email to:
.